Heavy Machinery is one of the biggest parts of the construction industry, used to bring many staples of civilization into being. The construction of roads, buildings and incredible architecture that are continuing to be developed throughout the world today are created by the innovative machines such as cranes, diggers and excavators. These are used across an array of earthmoving activities and sectors, but it all had to start somewhere. This week we take a look back at one of the most well-known brands for plant machinery and take a lot at where it all began for JCB.
JCB is one of the three largest construction equipment manufacturers in the world, founded in 1945 by Joseph Cyril Bamford. JCB began small in 1945 and has now become a global force in heavy machinery manufacturing. JCB now produce over 300 different machines, it's incredible to believe it all started with a single farming trailer using surplus World War II parts and scrap metals.
So let's take a look: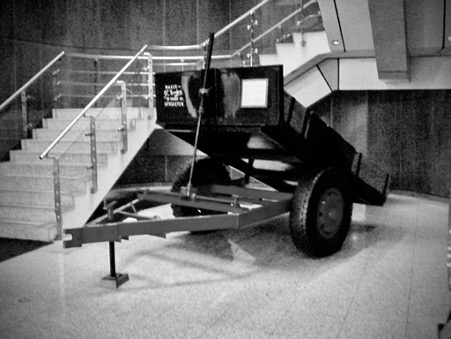 Joseph Cyril Bamford began the business that bears his initials with his first creation, in a garage measuring just 3.66 metres by 4.57 metres in Uttoxeter, using a welding set which he bought second-hand for £1 from English Electric. His first vehicle, the JCB all-steel tipping trailer was made with wheels and tyres from a Grumman Hellcat fighter aircraft and hubs from a small howitzer. The trailer's sides and floor were made from a steel sheet that had been part of air raid shelters. It wasn't until October 23rd 1945 that he sold the trailer at a nearby market for £45!
---
Advert
---
The very welding set that he used to build the first trailer have in fact been preserved and now stand proudly in the showroom of JCB's World HQ.
The basis of the JCB tipping trailer was then developed and in 1948 Joseph Cyril Bamford pioneered the first ever hydraulic tipping trailer in Europe.
Despite having a few machines in development, it wasn't until 1953 that the JCB logo appeared for the first time alongside his first diggers and backhoe loader. Fast forward 75 years and JCB produces diggers, backhoes, excavators, tractors, diesel engines and many more across 22 factories. The company have factories all across the globe in the UK, Germany, North America, Brazil, Australia, India and China with its products sold in over 150 countries. The company has a range of more than 300 products with more than 750 dealers around the world.
Joseph Cyril Bamford died in March 2001, but JCB still remains a family business to this day and continues to develop their innovations. Check out their latest release, the JCB PotholePro, with all the latest details on Plant Planet today.
---
Read more of the latest news from us
Plant Planet Magazine is available online today